We are proud to work closely with our parish.
St-Martin of Tours Church
Catholic Education Center 
21 Simcoe Plaza 
Terrace Bay ON 
P0T 2W0
Phone : (807) 824-2010
tsawchuk@sncdsb.on.ca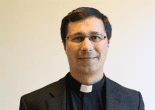 Father Terry Sawchuk is pastor of Holy Angels Church in Schreiber and St. Martin of Tours Church in Terrace Bay. He is the pastor who provides baptism and confirmation for our youth. Our school participates in or organizes a monthly mass in Terrace Bay. Father Terry also assists families on their spiritual journey.
"Be united, but not closed. Be humble, but not afraid. Be simple, but not naive. Be thoughtful, but not complicated. Dialogue with everyone, but be yourselves." - Pope Benedict XVI